Note: If you are using BuddyPress 2.0 or higher you do not need this plugin. We love it when our ideas make it into the codebase.
If you're using BuddyPress then you're most likely using BuddyPress  Extended Profile Fields.
This plugin allows you to view, edit and update those fields while viewing a member's WordPress Profile in the Dashboard.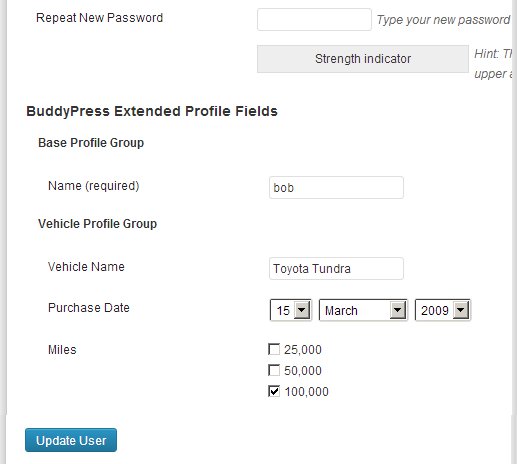 All Extended Profile Groups and Fields will be displayed along with the current value of those fields. You can edit the field values. Any changes will be saved along with any changes you make to the standard WordPress profile fields.
If you'd rather not have to navigate to a member's public profile page in order to access their extended profile data, then this is the plugin you want.
BP Dashboard User Profile Edit requires WordPress 3.5 or higher and BuddyPress 1.7 or higher.
BP Dashboard User Profile Edit